GLA DONATION TO HUBEI PROVINCE | "Together We are stronger! "
Time:2020-05-13 Publisher:Mark Num:1006
Together We are stronger!
"What is the essence of life? To serve others and to do good.
(Aristotle)
Dear GLA members and friends,
Good day.
Due to the urgent outbreak of novel coronavirus #COVID19 which was facing by China between December 2019 and early 2020. Fighting against the #COVID19 has immediately became the first priority for both Chinese government and Chinese people. As well as those who decided to stay in China during this tough time. This pandemic once again made us (GLA Global Logistics Alliance) to understand how powerful the word unity is!
Team GLA has decided to stand with the world in order to help people who are facing a grave threat from COVID-19 pandemic. Thus, GLA has created a global supplying platform called #GLAMALL, where any of you may have quick and direct access to various Chinese manufacturers of emergency items, such as masks, protective eyewear, disinfectants, protective suits, gloves and life-saving medical equipments and etc. In 27th of January 2020, with this specialized platform GLA Global Logistics Alliance has abled to arrange a donation of medical supplies for the local hospital in Hubei Province. The donation consists of 80,000 surgical face masks.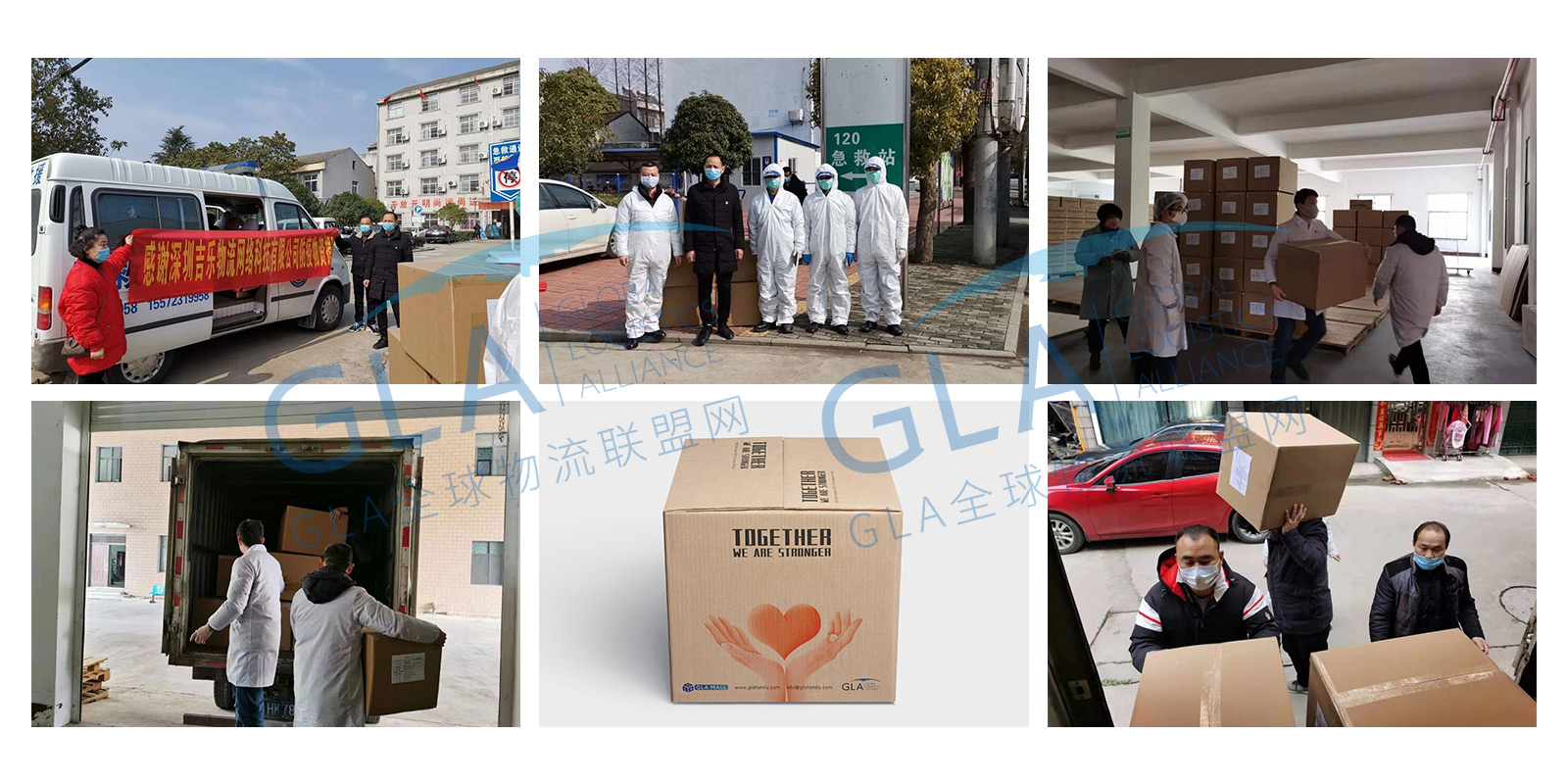 The pandemic is ruthless, but there is love on earth! GLA Global Logistics Alliance Network would like to contribute our parts for the human society in the fight against COVID-19. In the near future, we are willing to take the lead and stay committed to our principles, surrender to others, selfless dedication, and do our best to give back to the society!
Finally, we would like to thank the following companies and people of their contributions during the donation (Please note that some names will be in Chinese form):
Companies:
1. Shenzhen ASB Logistics Co., Ltd. 深圳市安捷康货运代理有限公司
2. Fuda Alliance 富达会
3. Genesis Insurance Agent 广东创世纪保险代理有限公司
4. Suzhou SohoLogistics Co., Ltd 苏州硕豪国际物流有限公司
5. Best Box Packers (Qingdao) Co., Ltd 百事保(青岛)包装有限公司
6. Changsha SHITAI Logistics Co., Ltd Hunan Logistics Headquarters Base 长沙实泰物流有限公司 湖南物流总部
7. 领军人才同学会
Names:
周国兵

Zhou guobin

Apple

王和飞

Wang hefei

Eric

王建军

Wang jianjun

钟伟浩

Zhong weihao

单丹丹

Dan dandan

田芳

Tian fang

Coco




田雄武

Tian xiongwu

张伟

zhang wei

魏尚力

Wei shangli
Your Sincerely,
GLA Global Logistics Alliance
2019 the 7th GLA Panel Discussion Wonderful Review
Prev:GLA MALL | GLA GLOBAL SUPPLY AND DOOR TO DOOR SERVICENext:GLA DONATION TO CAMBODIA | "The road is not far away, no one is foreign"