GLA DONATION TO CAMBODIA | "The road is not far away, no one is foreign"
Time:2020-05-11 Publisher:Haik Num:1053
"The road is not far away, no one is foreign"
"What is the essence of life? To serve others and to do good.
(Aristotle)
Dear GLA members and friends,
Good day.
As you all know the world wide COVID-19 pandemic situation is extremely serious now with a massive number of deaths with its reach to almost every country in the world. The Kingdom of Cambodia is facing an urgent problem of shortage in medical materials. This pandemic once again made us (GLA Global Logistics Alliance) to understand how powerful the word unity is! We have immediately responded to the national calls as "The road is not far away, no one is foreign" and "The virus has no borders, the epidemic has no race". Thus, GLA Global Logistics Alliance has arranged a donation for The Kingdom of Cambodia on April 8, 2020. We must put our hands together during this pandemic, and we wish the people of Cambodia good health, stay strong, stay safe during such difficult time.
The people of Cambodia have expressed their sincere, and humble gratitude to GLA Global Logistics Alliance. During the epidemic, the people of Cambodia and the people of China not only are reflecting the mutual supports and help, but also are reflecting the strong relationship between the two countries. This traditional friendship that is thicker than water proves that the relationship of the two countries are an unbreakable community of destiny.
The pandemic is ruthless, but there is love on earth! GLA Global Logistics Alliance Network would like to contribute our parts for the human society in the fight against COVID-19. In the near future, we are willing to take the lead and stay committed to our principles, surrender to others, selfless dedication, and do our best to give back to the society!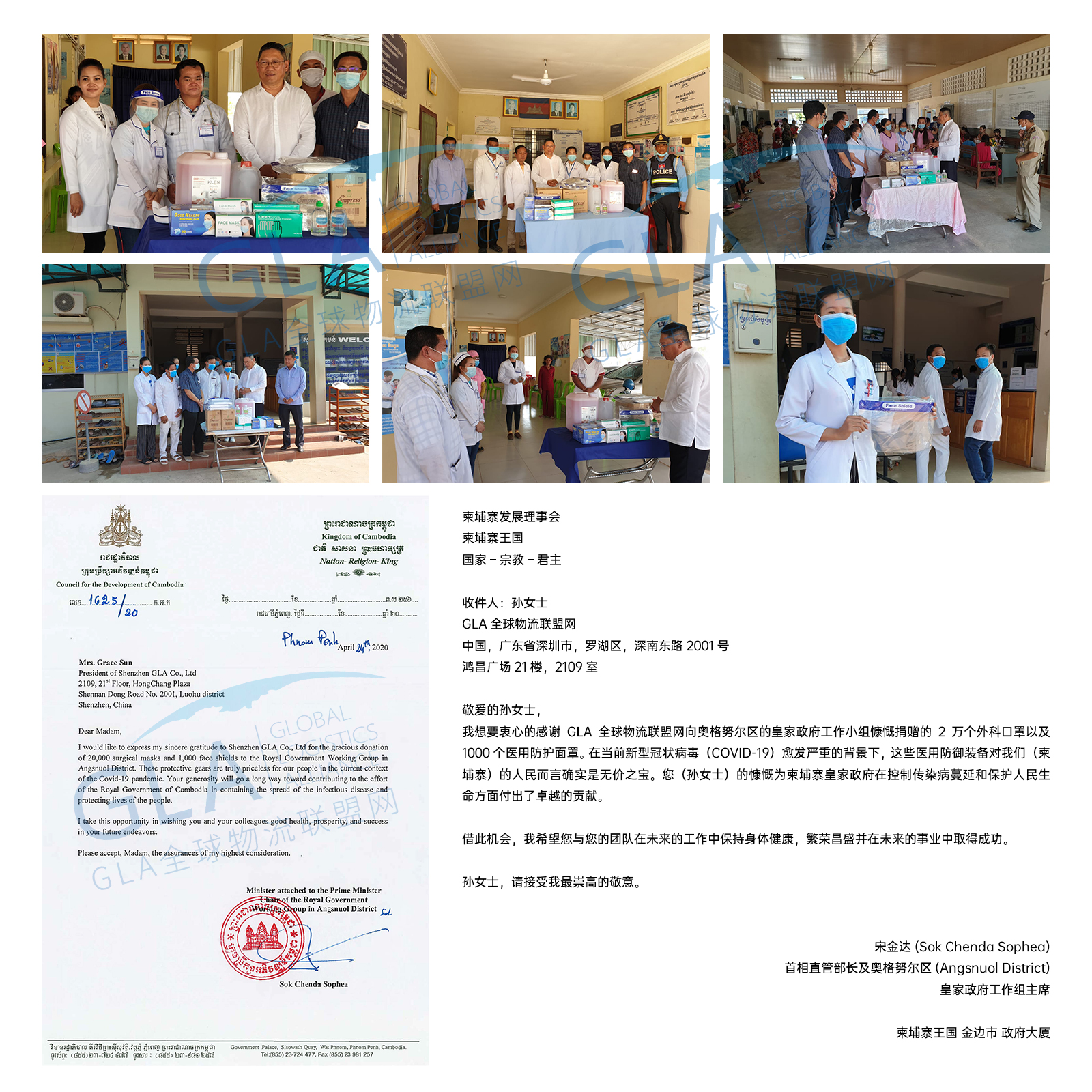 Your sincerely,
GLA Global Logistics Alliance
2019 the 7th GLA Panel Discussion Wonderful Review
Prev:GLA DONATION TO HUBEI PROVINCE | "Together We are stronger! "Next:GLA NEWS | ANTI-EPIDEMIC CENTER (EMERGENCY CENTER)