Welcome! New Golden Member from China ———— Great Link Logistics Co.,Ltd
Time:2023-03-07 Publisher:Kevin Num:357
It is our great honor to announce that Great Link Logistics Co.,Ltd has joined GLA Family as a golden member from China ,If you need China service, you can feel free to contact Mrs.Echo Zhan.

About AA Great Link Logistics Co., Ltd
Established in 2007 in Shenzhen China Great link Logistics is an internationalFreight Forwarder and a specialist in worldwide transportation and logisticsservices company. As integral component of a global network of agentsGreat link Logistics is a key player in both developed and developingcommercial markets particularly China United States Canada Brazil ChilePeru Italy Germany United Kingdom and worldwide. With offices in China Los Angeles California USA and others in VancouverBritish Columbia and Toronto Ontario in Canada we ship cargo of every kindand all sizes to every destination worldwide.
Their Services Include:
Sea freight forwarder , Air freight forwarder , LCL , Perishable Shipments , Others ,

Break bulk , Others ,

Inland transport , Custom brokers , Warehousing , Packaging , Insurance services , Survey Company , Vessel agent , Distribution , Trading ,
Let's warmly welcome Great Link Logistics Co.,Ltd to join GLA Family from 2023 to 2026.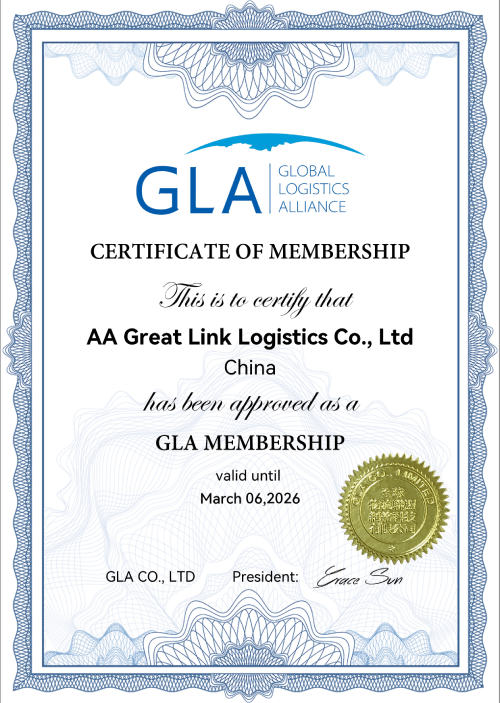 Prev:Welcome! New Golden Member from Brazil ———— MZX BRAZILNext:Welcome! New Golden Member from Thailand ———— Siam Indochina Logistics Co,.ltd