GLA DONATION TO QICHUN COUNTY | "United By Love, Togther We Stand"
Time:2020-05-27 Publisher:Mark Num:596
"United By Love, Together We Stand"
"What is the essence of life? To serve others and to do good.
(Aristotle)
Dear GLA members and friends,
Good day.
Due to the urgent outbreak of novel coronavirus #COVID19 which was facing by China between December 2019 and early 2020. Fighting against the #COVID19 has immediately became the first priority for both Chinese government and Chinese people. As well as those who decided to stay in China during this tough time. This pandemic once again made us (GLA Global Logistics Alliance) to understand how powerful the word unity is!
GLA Global Logistics Alliance Network has decided to stand with the world in order to help people who are facing a grave threat from COVID-19 pandemic. Thus, GLA has created a global supplying platform called #GLAMALL, where any of you may have quick and direct access to various Chinese manufacturers of emergency items, such as masks, protective eyewear, disinfectants, protective suits, gloves and life-saving medical equipments and etc. In February 2020, with this specialized platform GLA Global Logistics Alliance has abled to arrange a donation of 6,000 surgical masks for The People Hospital of Qichun County in China.
The pandemic is ruthless, but there is love on earth! GLA Global Logistics Alliance Network would like to contribute our parts for the human society in the fight against COVID-19. In the near future, we are willing to take the lead and stay committed to our principles, surrender to others, selfless dedication, and do our best to give back to the society!
Finally, we would like to share with you the following letter which was issued by The People Hospital of Qichun County to GLA team: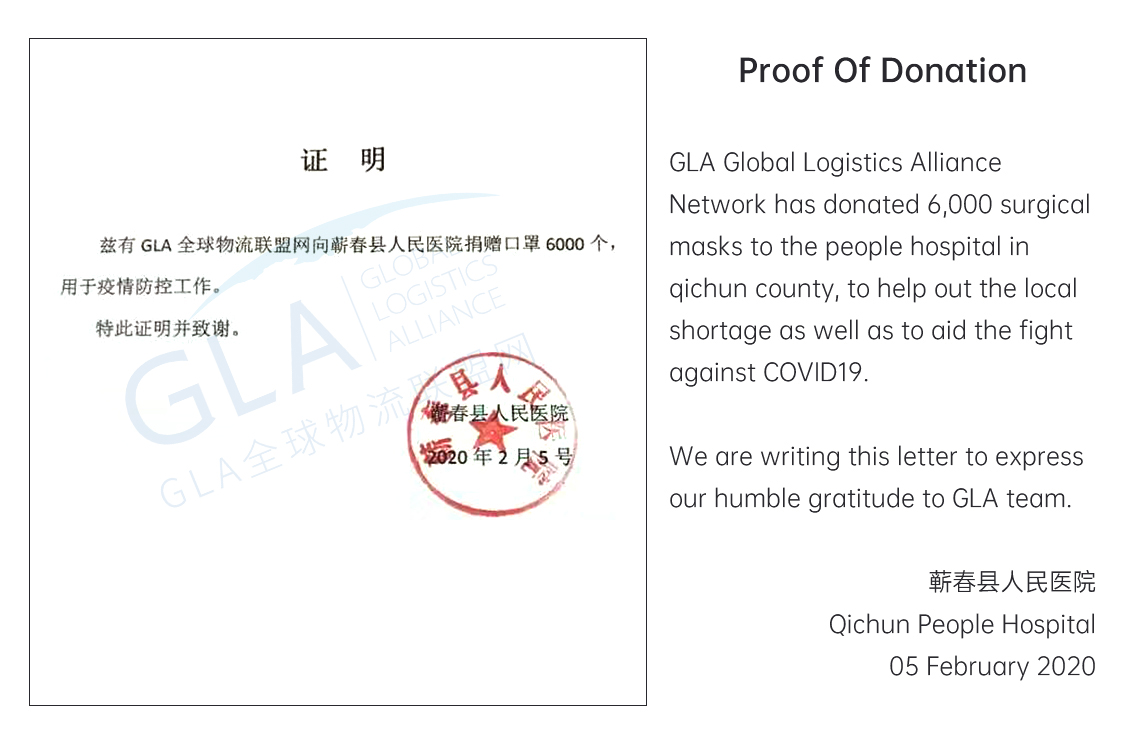 Your Sincerely,
GLA Global Logistics Alliance
2019 the 7th GLA Panel Discussion Wonderful Review
Prev:Next:GLA MALL | GLA GLOBAL SUPPLY AND DOOR TO DOOR SERVICE