New Golden Member From Cameroon—— Rainbow Express
Time:2021-04-08 Publisher:Kevin Num:479
It is our great honor to announce that Rainbow Express has joined GLA Family as a golden member from Cameroon.If you need Cameroon service, you can feel free to contact [Mr.]Celestin - Normen Yimnga
About Rainbow Express
Rainbow Express is a global player in providing complete end to end shipping solutions.Rainbow Express was founded in 1998. Headquartered in Douala, the company has offices in thesub region and representatives in other locations worldwide.
Rainbow Express with its name and credibility have earned lot of reputed agents all over the world. These reliable associates work for both import and export shipment.Key goal of RE is to channelize service by adapting to the industry specialized practices. RE offersclients much more by the depth in services provided by the expertise that they posses.
Rainbow Express is uniquely positioned to handle all aspects of our customers shipment needs fromstart to finish end to end,Rainbow Express is committed to provide an entire range of forwarding & logistics services allover the world. RE Global Lines thrives to present a full range of flexible, reliable and cost effectivesolutions with a team of well experienced and qualified professionals.
Rainbow Express is a one stop shop for all your shipping needs. All your logistic needs could be met under one single roof.
Their Services Include:
SHIPPING SERVICES TO ANYWHERE IN THE WORLD, IMPORTS & EXPORTS ,COMMERCIAL CARGO SHIPMENTS, HOUSE HOLD & PERSONAL EFFECTS PACKING & REMOVALS , RELOCATIONS

LOCAL & INTERNATIONAL DOORTO DOOR SERVICE ,OFFICE SHIFTTING ,INDUSTRIAL PACKINGS ,HANDLING OF PROJECT / BREAK BULK CARGO EXHIBITION CARGO , WAREHOUSING/STORAGE SERVICES CUSTOMS CLEARANCE , INSURANCE , LAND TRANSPORTATION
Let's warmly Welcome Rainbow Express to join GLA family from 2021 to 2022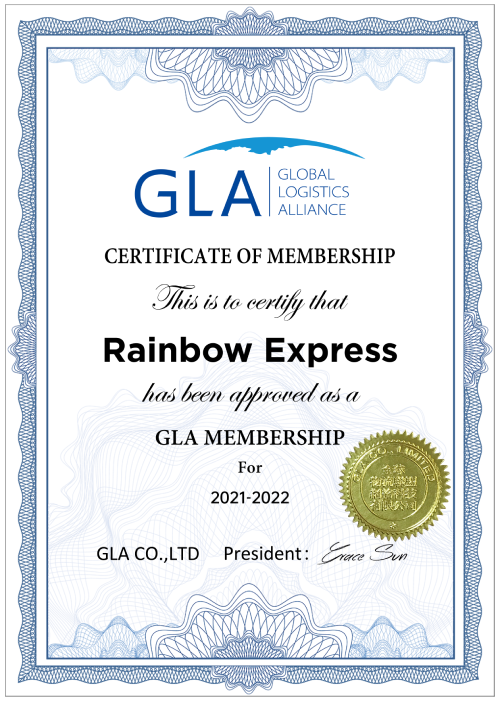 2019 the 7th GLA Panel Discussion Wonderful Review
Prev:GLA MEMBER RENEWAL | Marvel Freight Limited from BANGLADESHNext:Logistics business: reasons to join the network group