GLA Membership Renewal-CLARION for Singapore and Malaysia office from 2019 to 2022
Time:2019-03-06 Publisher:Bill Num:134
Dear GLA Membership, good day
We have the honor to announce that CLARION join GLA family by membership renewal for Singapore and Malaysia office from 2019 to 2022. CLARION joined GLA family in 2016 and already in GLA for 3 years. Thanks for the support. Below is Singapore and Malaysia contact details. If you need support in Malaysia and Singapore, you can contact Ms. Saritha and Mr. Sajith Kumar. G.
Singapore office contact:
Saritha
Clarion Logistics Holding Singapore Ltd
(As Freight Forwarder/Agents only)
Tel: +65 6220 6272 / 6223 6512 / 6220 6391
Fax : +65. 6220 6536
Mobile: +65 84286650
Skype: ritacli@hotmail.com
Wechat id: sarithaclarion2012
Visit us at www.clarionshipping.com
Team Photo: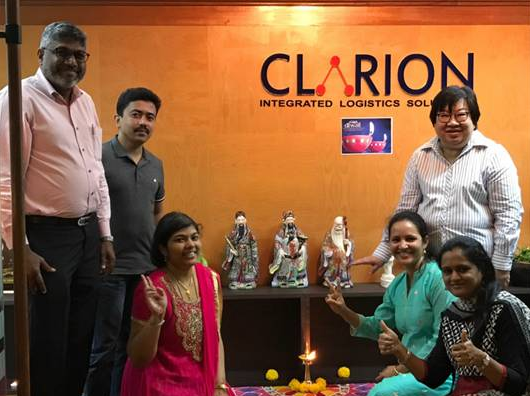 Malaysia office contact:
Sajith Kumar. G
Country Manager
Clarion International Freight & Logistics Sdn Bhd
(As Freight Forwarder/Agents only)
Suite # 27-07 B, Level 27 Centro,
No 8, Jalan Batu Tiga Lama, 41300 Klang.
Selangor Darul Ehsan, Malaysia.
TEL. +603-33624724, 03-33624725
FAX. +603- 33624713
Mob. +60 12 6774093
Skype : sajithkgpillai
Eamail:
Visit us at www.clarionshipping.com"
Team Photo: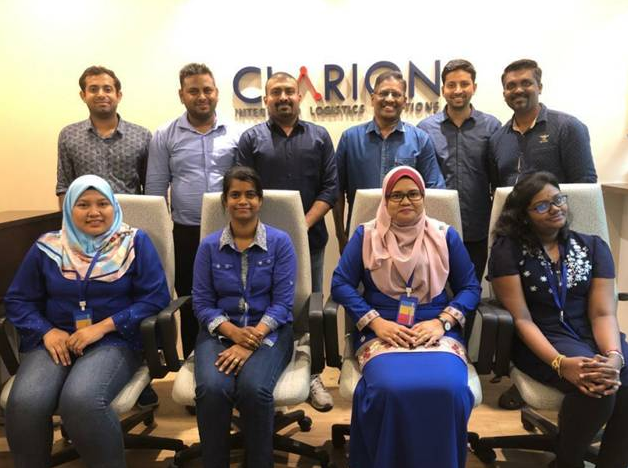 Company Brief Introduction:
Clarion is a globally acclaimed ocean and air freight forwarder, a multimodal logistics service provider head quartered in Dubai, United Arab Emirates. Clarion is recognized as a leading brand in the Middle East with a strong network of own offices around the world.
The Company is managed by a multinational and diverse group of highly experienced professionals having decades of hands-on experience and exposure in shipping, air freight, land transportation, supply chain management, warehousing and distribution, projects and chartering, exhibitions management and Packing & Relocations.
Our global team of highly motivated, flexible and dedicated individuals is always in the forefront to serve our customers with speed and agility.
Service:
Ø Shipping Agency
Clarion owns Clarion Shipping Lines (CSL) Limited, Non Vessel Operating Container Carrier (NVOCC), registered in the U.K, and has services to all CIS destinations via Bandar Abbas.
Ø Sea Freight
Be it Full Container Load (FCL), Less than Container Load (LCL), NVOCC, Import/Export Consolidation or Chartering, Clarion has them all to its portfolio of services
Ø Air Freight
We have direct Import/Export Air Consolidation and Air Chartering. Our strengths in air freight are reinforced by our partners who are leading players in Air Cargo services.
Ø Transportation
We have our own road transport facilities to take care of road transport between destinations in and around GCC Countries
Ø Customs Clearance
Our customers get more value for money since we also handle the customs brokering, documentation and inland clearance, offering hassle free services.
Ø Logistics Distribution
We fully understand the significance of Supply Chain Management (SCM) in the value chain for Business Processes. With this in mind we have set up a modern logistics/distribution centre in Jebel Ali Free Zone to integrate our services with various distribution centers around the region.
Welcome CLARION join GLA Family by Singapore and Malaysia office.
2018 the 6th GLA Panel Discussion Wonderful Review
2018 the 6th Global Logistics Conference Live Playback: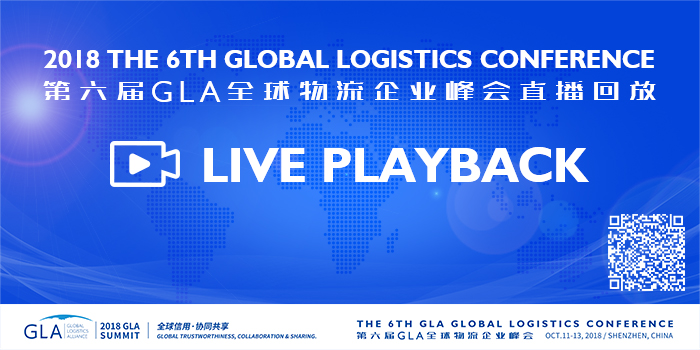 Prev:GLA New Membership-SKYLINE SHIPPING & LOGISTICS PVT LTD in India Next:GLA Membership — ViT Logistics s.r.o. in Czech Republic